Bank of England Rate Decision – Preview
September 12, 2018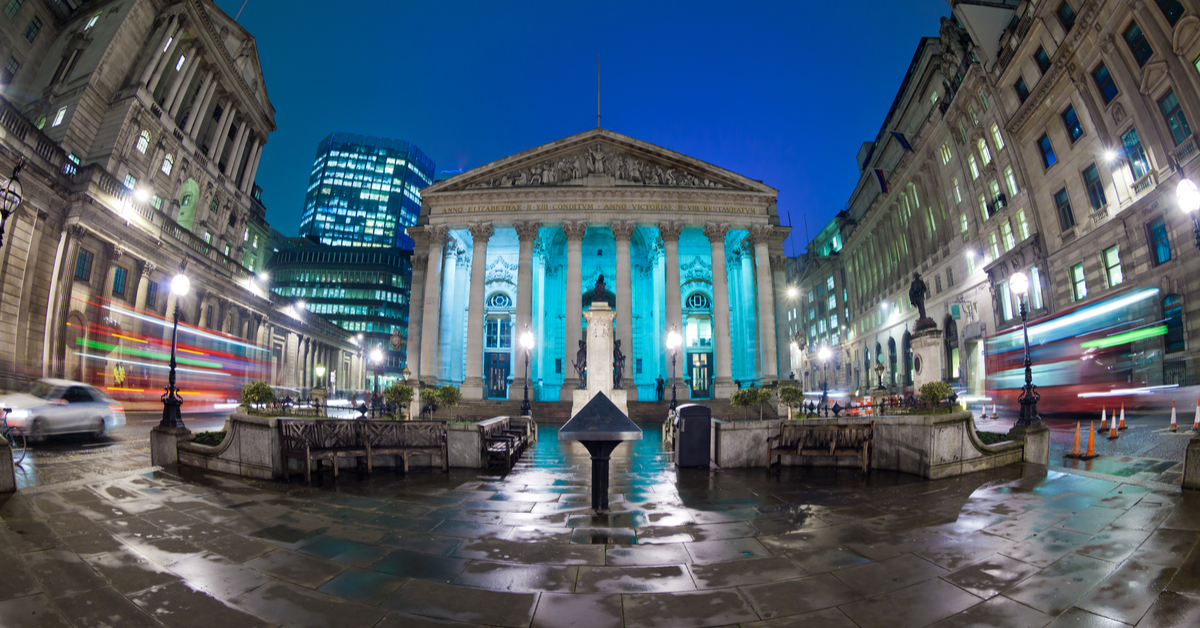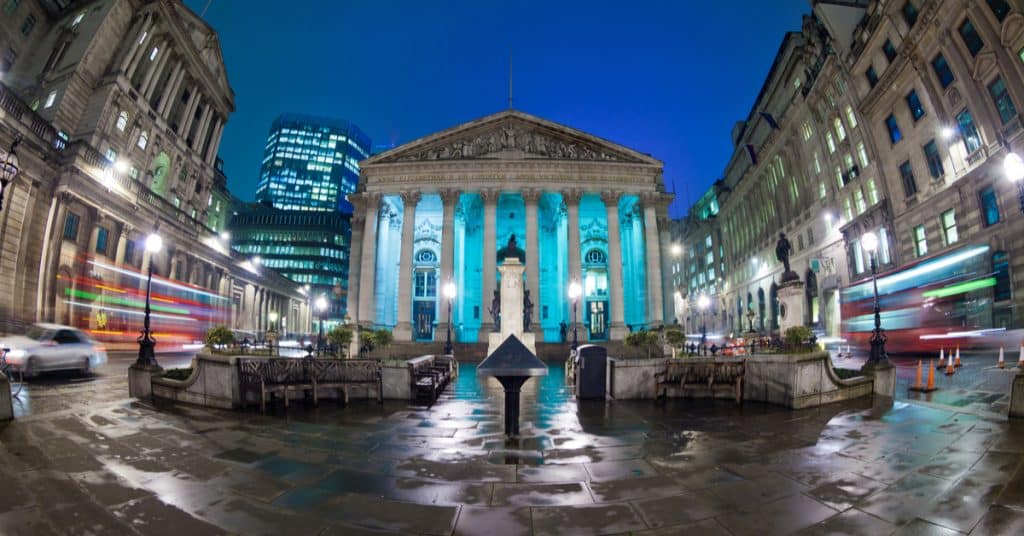 All the talk about whether Mark Carney will leave the Bank of England in 2019 or not has ended, the current Bank of England governor has extended his stay at the central bank until January 2020 as Chancellor Philip Hammond announced it on Tuesday. So it is now time to focus on the upcoming Bank of England rate decision at on Thursday.
Who Decides The Rates?
Interest rates, set by the Bank of England's Monetary Policy Committee, is made up of nine members – The Governor, the three Deputy Governors for Monetary Policy, Financial Stability and Markets & Banking, the Banks' Chief Economist and four external members appointed directly by the Chancellor.
Expectations
It is highly unlikely that the interest rates will rise from 0.75% in the following meeting. However, it will be essential to keep an eye out about the latest UK labour market data, which released by Office of National Statistics for any indications on the central bank's further moves.
UK Economy & Brexit Update
On 10th September, the Office of National Statistics released the latest data which showed that the UK gross domestic product (GDP) grew by 0.6% in May to July, up from 0.4% growth in three months to June and highest since August 2017.
Some positive news on the Brexit negotiations – the European Chief Negotiator for the UK Exiting the EU stated that a Brexit deal could be reached in 6 to 8 weeks. However, as we know from the Brexit process so far, anything could happen in the coming weeks, so it is still vital to keep an eye on comments coming from both sides to see if reaching a deal is even possible.
Financial Markets
We saw the Pound strengthen this week against the US Dollar after the latest GDP figures and comments from the EU's chief negotiator to its highest level since the beginning of August. GBP/USD is currently trading at around 1.30 level.
GBP/USD Daily Chart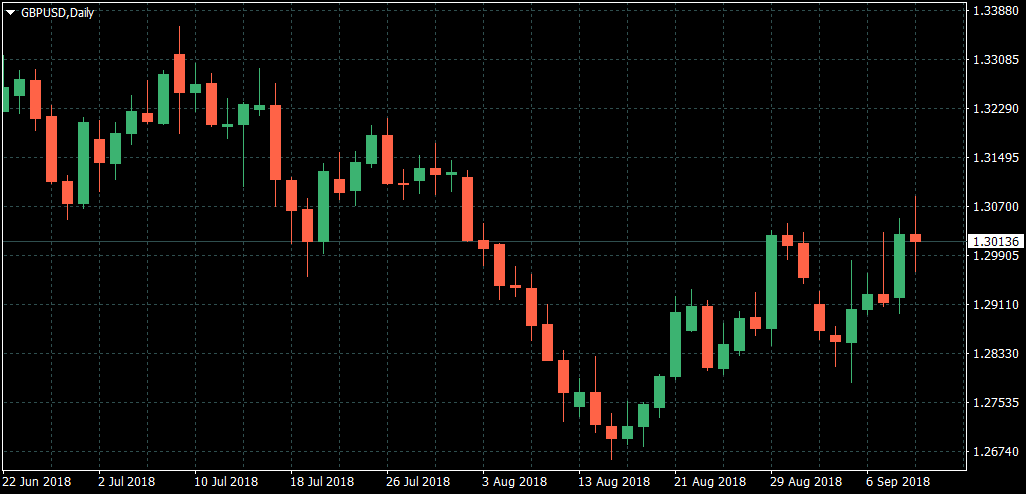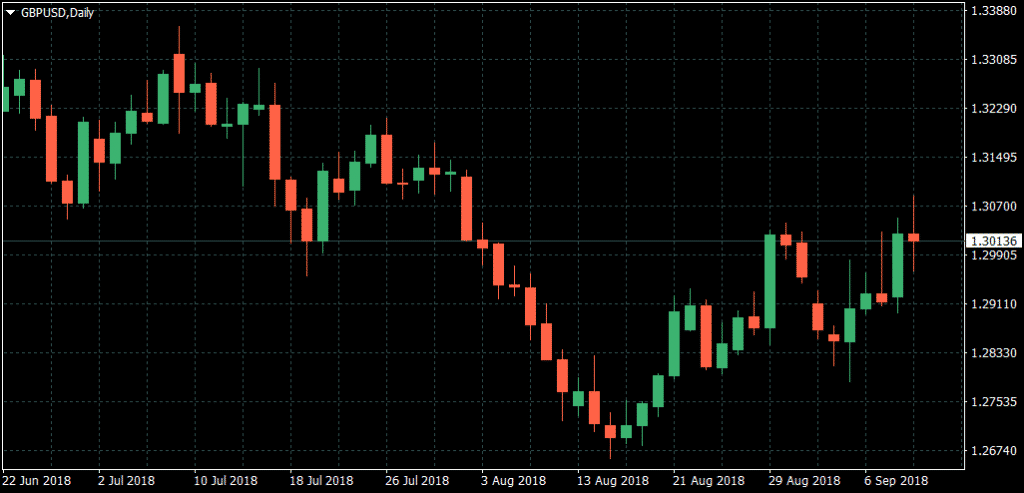 As the Pound strengthened, we saw the FTSE100 fall to its lowest level since April. Currently trading at around 7270 level. All eyes will be on the Thursday's decision and comments from Mark Carney.
FTSE100 Daily Chart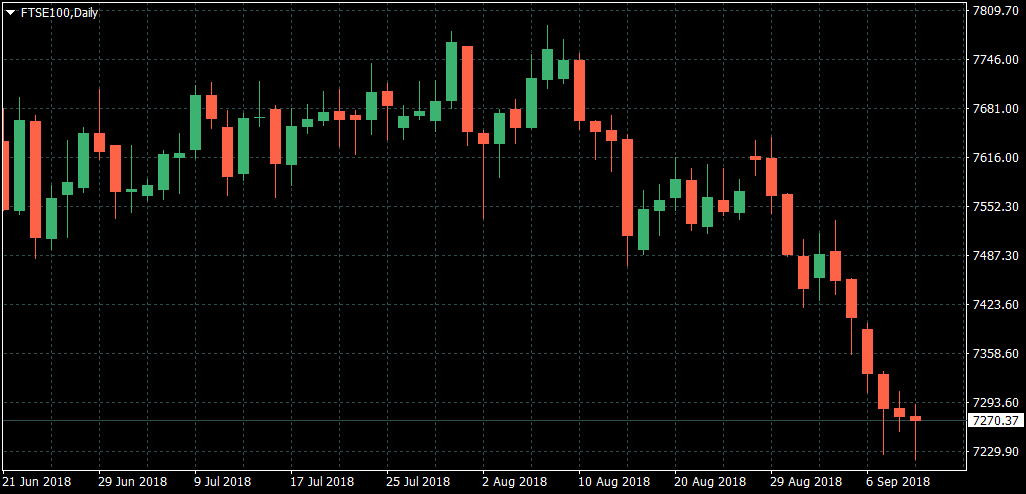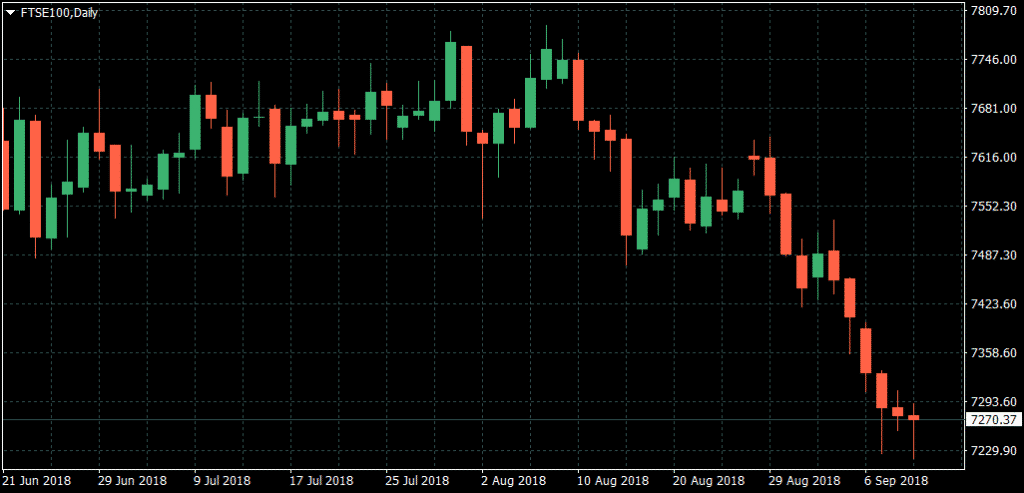 The upcoming rate decision is set to be announced at 1.30 PM London time (GMT +1)
Remaining Bank of England Rate Announcement dates for 2018:
1st November
20th December
By Klāvs Valters  (Market Analyst)

 @klavsvalters
This article is written by a GO Markets Analyst and is based on their independent analysis. They remain fully responsible for the views expressed as well as any remaining error or omissions. Trading Forex and Derivatives carries a high level of risk.
Sources: Go Markets MT4
Next: Fundamental and Technical Forecasts Ahead of the FOMC meeting
Previous: RBA's Next Move: Up, Down or On Hold?