Deutsche Bank Revives The Failure of Lehman Brothers
July 12, 2019
By Deepta Bolaky

 @DeeptaGOMarkets
Deutsche Bank Revives
The Failure of Lehman Brothers
Deutsche Bank's woes dominated headlines this week. On Sunday, the multinational investment bank announced 18,000 job cuts around the globe by 2022 and shut down its global stock trading business as part of a sweeping overhaul.
It was reported that the cuts had been anticipated for weeks. We watched the staff of the German bank being laid off around the world including, Sydney, New York, and London offices this week.
It was difficult to witness the lay-offs of the troubled bank without reviving the moments of Lehman Brothers. Since the 2008 financial crisis, the bank started its downfall over a series of costly scandals, alleged wrongdoing, and years of mismanagement.
The massive restructuring did little to boost investor sentiment. The market is worried that the overhaul is not enough to deliver shareholders' value in the future. In the face of its large workforce cuts, there are concerns on the revenue stream from the core European retail and corporate banking.
Additionally, in the era of low global interest rates and an-already struggling European banking sector, Deutsche Bank's restructuring does not inspire a lot of confidence.
Just recently, the Chief Executive Officer, Christian Sewing was celebrating its first major win when Deutsche Bank passed the stress test after it repeatedly failed past exams. The bank's share price has increased since the beginning of June. However, this week were the bearer of bad news.
The bank might not have anticipated the lack of optimism on the revamp plans. The market has doubts over the restructuring and the ability of the German lender to meet its 2022 profitability goal is highly questionable.
Its share price fell by more than 10% from a high of 8.22 last week to a low of 7.28 this week!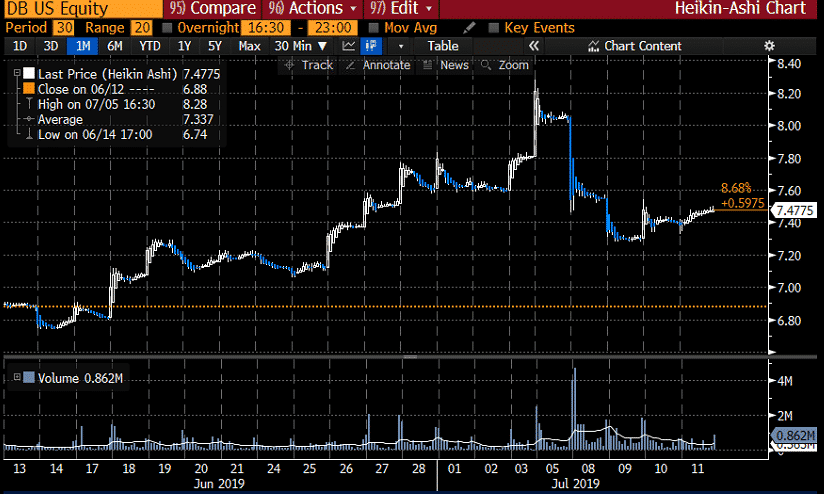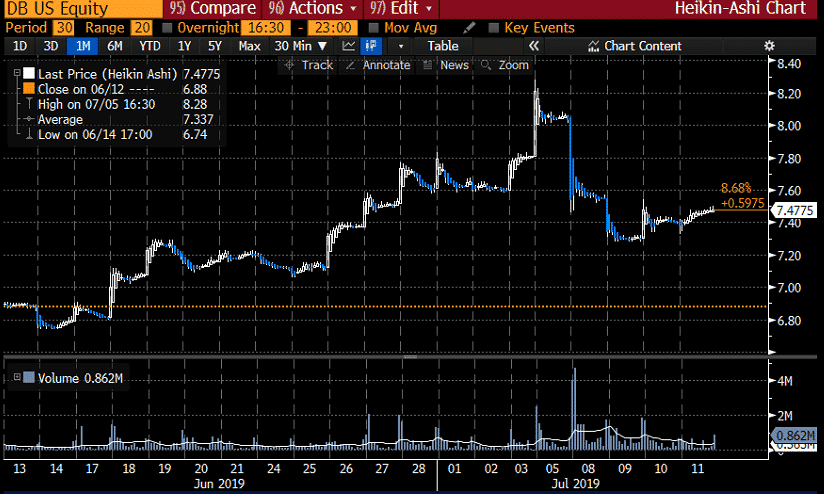 Source: Bloomberg Terminal (1 Month Chart)
The week got worse as Deutsche Bank is being dragged in a wider probe of a 1MDB scandal. The investigation adds to the list of other high-profile government probes.
The restructuring has not been met with optimism by global rating agencies as well.
Now is probably not the time to test the buy the dip strategy.
 Disclaimer: Articles and videos from GO Markets analysts are based on their independent analysis. Views expressed are of their own and of a 'general' nature. Advice (if any) are not based on the reader's personal objectives, financial situation or needs.  Readers should, therefore, consider how appropriate the advice (if any) is to their objectives, financial situation and needs, before acting on the advice.
Next: Fundamental Analysis: Macro Factors
Previous: Preview: The Bank of Canada Rate Decision