From Singapore to Hanoi – Summit 2.0
February 26, 2019
By Deepta Bolaky

 @DeeptaGOMarkets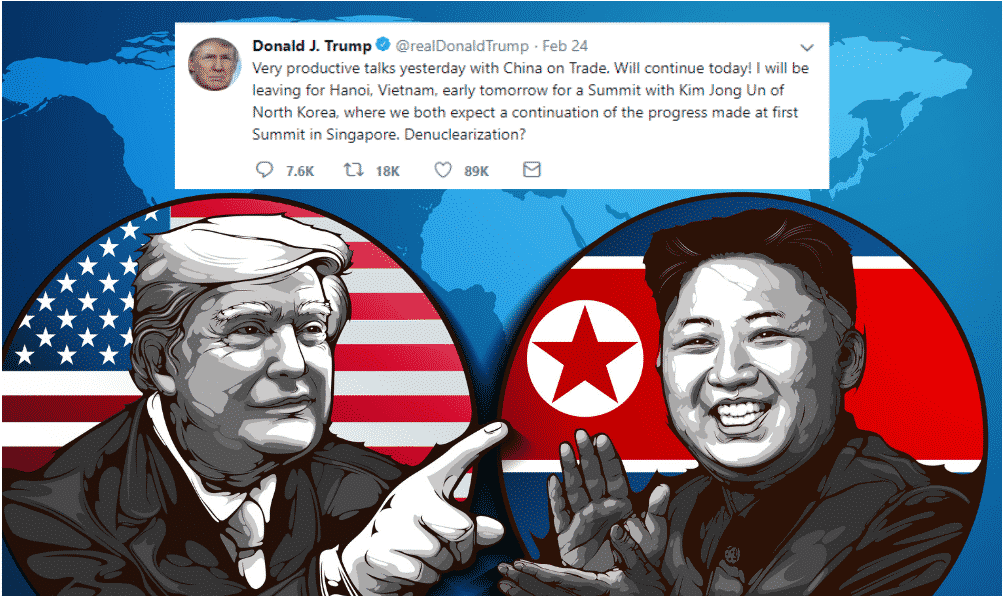 President Trump is on the "Tweet Rally" with positive headlines on the trade front and much confidence ahead of the Summit in Hanoi, Vietnam.

Singapore Summit
The Singapore Summit marked the first-ever meeting between the Head of State of North Korea and the United States. Both leaders signed a joint statement during the Summit and agreed on:
Security guarantees
New peaceful relations
The denuclearisation of the Korean peninsula
The recovery of the American soldiers
The first meeting was "big" on the geopolitical front and made history, but the Summit delivered little on the specifics or concrete details on a roadmap to complete denuclearisation.
After a wild 2017 whereby a series of new missile was tested, North Korea undertook a few significant steps:
No ballistic missiles or nuclear weapons
Blown up the entrances to its atomic test site
Hanoi Summit
The relationship between both countries has undergone a dramatic turnaround, and there were probably more diplomatic communications than before:
"If I were not elected president, you would have been in a war with North Korea," Trump said last week. "We now have a situation where the relationships are good — where there has been no nuclear testing, no missiles, no rockets."
However, the expectations around the second meeting are relatively low compared to last year. The months that followed the Summit provided little optimism that there will be complete denuclearisation. Washington wants more concrete steps from Pyongyang while North Korea demanded the US to take more corresponding measures.
Bearing in mind that 2020 elections are looming, President Trump is under pressure to produce a concrete roadmap to denuclearisation. A lack of major breakthrough could have some negative political ramifications for President Trump. We saw a softer stance by the US President in the run-up to the Summit:
"I don't want to rush anybody. I just don't want testing. As long as there's no testing, we're happy."
The President also hinted that North Korea has the potential to become an "economic powerhouse".
Does the vast majority of investors think the same? How much of their nuclear weapons is North Korea willing to give up for fresh economic investment?
 This article is written by a GO Markets Analyst and is based on their independent analysis. They remain fully responsible for the views expressed as well as any remaining error or omissions. Trading Forex and Derivatives carries a high level of risk.
Next: US Jobs Report
Previous: Trade Deadline Delayed – "Substantial Progress"