Netflix's Second-Quarter Results Analysed
July 18, 2019
By Deepta Bolaky

 @DeeptaGOMarkets
Netflix's Second-Quarter Results
Netflix, Inc. (NASDAQ: NFLX) has released its second-quarter 2019 earnings report on Wednesday after the US close. The company tumbled by more than 10% in after-hours trading as the streaming giant missed new memberships forecasts.
Below are the main highlights of the financial results:
New paid memberships grew only by 2.7 million compared to 5 million forecasted. In comparison to the Q2 2018, paid membership was less by 2.8 million.
Profit in the second quarter of 2019 fell to $271m.
The missed forecasts were across all regions, but it has been more prominent in the region with the price hikes. However, the company didn't think that the price increase was the issue.
The Company blamed the miss in new subscribers on a lack of original content rather than competition.
"We don't believe the competition was a factor since there wasn't a material change in the competitive landscape during Q2, and competitive intensity and our penetration is varied across regions (while our over-forecast was in every region). Rather, we think Q2's content slate drove less growth in paid net adds than we anticipated"
Netflix moved away from licensed shows and is relying more on its original films, anime shows and programs. The lack of strong content could have been the reason that the streaming company failed to bring in more subscribers.
In the face of serious competition with other companies like Disney, Apple, Hotstar, YouTube, among others offering streaming entertainment, Netflix will have to upstage its original content and stay relevant.
The company see subscribers picking up in Q3 due to the release of new seasons of popular shows. Also, popular shows like The Office and Friends will be wound down over the coming years, which will help to free up budget to allow Netflix to create more original content.
The rise of competition and the type of content are the major factors that Netflix will have to tackle to achieve the large projected ticks in subscribers in the third quarter.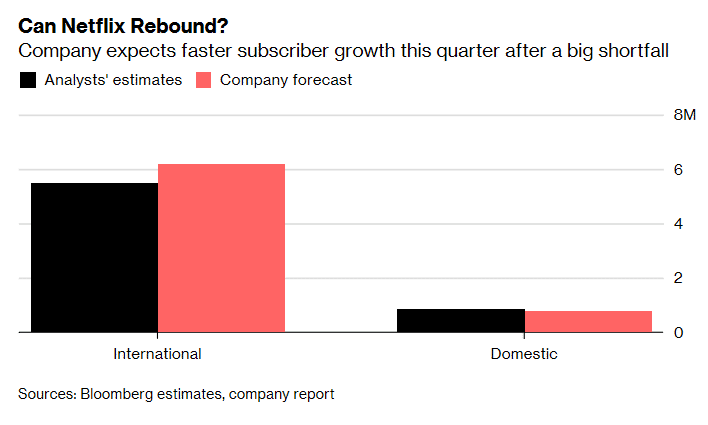 Disclaimer: Articles and videos from GO Markets analysts are based on their independent analysis. Views expressed are of their own and of a 'general' nature. Advice (if any) are not based on the reader's personal objectives, financial situation or needs.  Readers should, therefore, consider how appropriate the advice (if any) is to their objectives, financial situation and needs, before acting on the advice. Click here for more information on trading Share CFDs, also, see our Index Trading page for information in trading Indicies.
Next: Share CFD chart of the day – Todays REAL market example attached and how it works
Previous: ASX Share CFDs: Timing Entry: "The professionals close the market"?