Trading plan specifics – Articulating your trail stop strategy in your plan
December 23, 2019
We have discussed many times the importance of unambiguous, and sufficiently specific statements within your trading plan in previous articles and at the weekly "Inner Circle" webinars (for more information see the Inner Circle in the navigation bar).
The benefits of this are twofold:
1. Assist in developing consistency in execution when trading when attempting to follow a trading plan in the "heat of the market" &
2. Facilitate measurement of aspects of your trading plan to review and refine on evidence.
This article aims to give you an example in the context of trailing a stop, one of the key exit strategies employed by traders.
Below are some commonly used trading scenarios for trailing a stop, relevant challenges faced when attempting to be appropriately specific within your plan are below.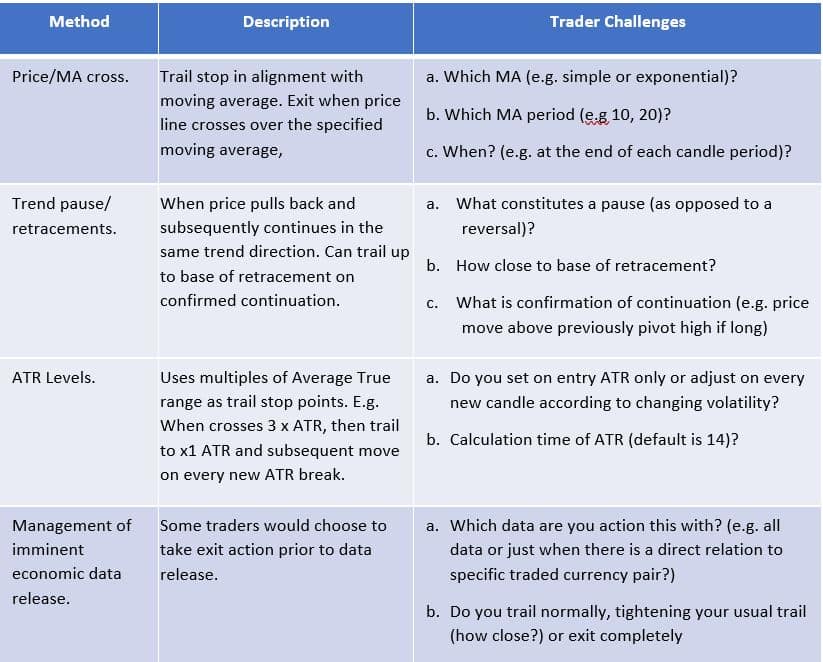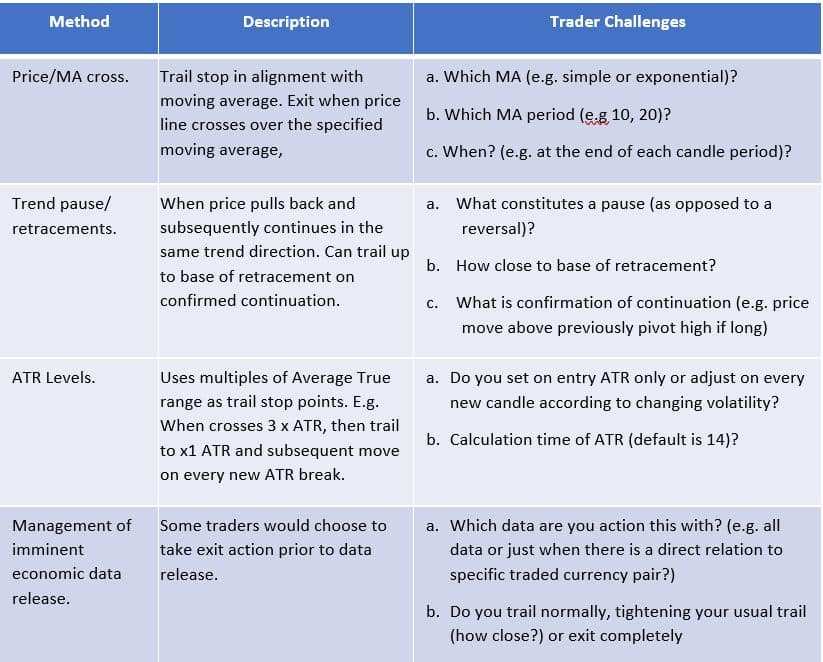 So, for example, using the first example, we could articulate the statement as follows:
"I will check the current 15EMA at the end of every chosen candle chart period for any open position, and trail my stop to this level until the price has crossed below (if long), or above (if short), at which point I will exit the trade".
Your challenge is simple. Once you have chosen your trail stop method, review your existing statement and make a judgement and take action if you think you could tighten it up to mean that statement potentially better meets those two aims highlighted at the beginning of this article.
Mike Smith
Educator
GO Markets
Disclaimer
The article from GO Markets analysts is based on their independent analysis. Views expressed are of their own and of a 'general' nature. Advice (if any) are not based on the reader's personal objectives, financial situation or needs. Readers should, therefore, consider how appropriate the advice (if any) is to their objectives, financial situation and needs, before acting on the advice.
Next: Trend retracement or reversal? – Can volume be a useful "clue"?
Previous: Video: Matching trading strategy to an economic outlook