Weekly Summary: Hopes of Partial Easing of Tariffs
November 8, 2019
By Deepta Bolaky

 @DeeptaGOMarkets
Weekly Summary
Market sentiment was primarily upbeat during the start of the week due to the positive trade-related headlines that raised hopes that the US and China are moving closer to completing and signing the phase-one of the trade deal.
US-China Trade
Beijing and Washington officials made encouraging comments that top negotiators are having a serious and constructive discussion on resolving issues. It is reported that both sides have also agreed to remove additional tariffs in phases as and when the progress is being made.
Both sides have sent positive signals to the markets which are being seen as the first softening stance in the two-year tariff war. As we head towards the end of the year, it could be a turning point for markets.
The International Monetary Fund (IMF) stated that:
"An interim U.S.-China trade deal that rolls back some tariffs has the potential to improve the International Monetary Fund's baseline economic forecasts…"
New Records High 
Broad optimism has helped major equity indices are trading near record highs:
Dow Jones Industrial Average rose to a new high at 27,774.67.
S&P500 rallied to a record high of 3097.77
DAX finished to a new 2019 high at 13,300.76 
However, markets briefly paused in anticipation of more trade headlines mid-week due to the news that the much-awaited Phase 1 trade agreement would likely be delayed until December. 
Reporting Season – Mixed Earnings 
With the US earnings reporting season winding down, Refinitiv indicates that 75% of the S&P500 companies have beaten earnings expectations. The weakness was mostly seen in the energy sector.
S&P500 Scorecard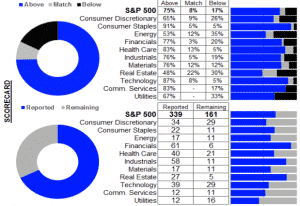 Source: Refinitiv (as at 31st of October)
Even though the third-quarter earnings reports were better-than-expected, companies have provided mixed signals for the expectations in the fourth quarter. However, investors are now pricing-in the latest developments on the trade front which have the potential to improve forecasts.
Brexit – Election Campaign
The Brexit deadlock led to a Brexit general election. Mr Boris Johnson is hopeful to win back the party's majority in the Commons which could make it easier for him to pass a Brexit deal and any relevant legislation.
Main polling companies are predicting a lead for the Conservative Party, but there are enough uncertainties as many voters may decide to vote tactically for Brexit and the rise of other smaller parties may make it difficult for major parties to win an outright majority.
Plans, strategies and policies may take a backseat as Brexit will likely remain at the forefront in this election. 
The British Pound remains elevated but the dissenting BoE members had caused the GBPUSD pair to fall to a two-week low. Two officials of the BoE unexpectedly voted to cut interest rates this month. In a nutshell, growth has slowed in the UK, inflation is a little below their 2% target and Brexit uncertainty has been high.
"With the risk of a no-deal Brexit falling recently, we expect the uncertainty facing households and businesses to fall. We also expect global growth to recover gradually. These developments should help growth here in the UK. 
If that does not happen, then we may need to lower interest rates to support UK growth and ensure that we return inflation to our 2% target sustainably."
However, rather than interest rates, attention stays mostly on Brexit and the election that can break the Brexit deadlock. Any downside movement is being contained by the fact that the polls are not showing a win for the Labour Party.
GBPUSD (Daily Chart)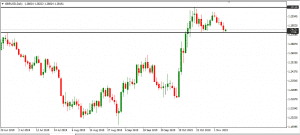 Source: GO MT4 
Monday, 11 November 2019
Indicative Index Dividends
Dividends are in Points
ASX200
WS30
US500
US2000
NDX100
CAC40
STOXX50
11.653
0
0
0
0
0
0
ESP35
ITA40
FTSE100
DAX30
HK50
JP225
INDIA50
0
0
0
0
13.041
0
0
Disclaimer: Articles and videos from GO Markets analysts are based on their independent analysis. Views expressed are of their own and of a 'general' nature. Advice (if any) are not based on the reader's personal objectives, financial situation or needs.  Readers should, therefore, consider how appropriate the advice (if any) is to their objectives, financial situation and needs, before acting on the advice . For more information of trading, check out our cfd trading courses.
Next: Week Ahead – Trade Remains in Focus
Previous: Week Ahead – A Massive Week Ahead