Housing Market and the Federal Election
May 17, 2019
By Deepta Bolaky

 @DeeptaGOMarkets
Housing Market and the Federal Election
"Labor – A fair go for Australia"
"Liberal – Building our economy and securing our future"
"Nationals – A strong vote for regional Australia"
"Greens – A future for all of us"
"The Centre Alliance – Making sure South Australia always comes first"
The economy is facing fundamental challenges, and the recent figures of the following key macro-economic factors are showing further signs of weakness:
Consumer Price Index
Wages Price Index
Retail Turnover
Consumer Confidence
Unemployment
The calls for a rate cut are growing louder, and recent economic data releases are raising the bets that RBA will cut rates sooner than later.
However, the Federal Election will also have the potential to change how our economy works as political parties come with an agenda which will have implications on the Australian economy. Below is a table that depicts some of the main policies adopted that two main political parties: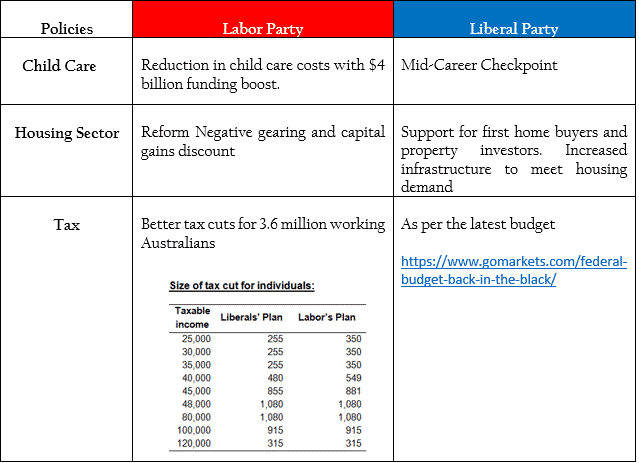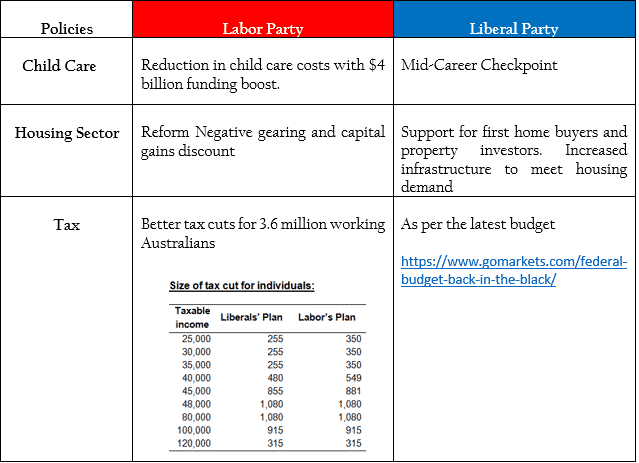 The Housing sector is a significant concern for the Australian fragile economy. The Reserve Bank of Australia (RBA) is trapped as altering interest rates will affect the housing market directly. A cut could fuel demand and pushing prices higher again, even though, stricter lending requirements might help to lessen the lift in home prices to some extent in the near-to-medium term.
Adding to the current uncertainty of the housing market, the outcome of the Federal Election will also have huge implications on this sector.
This is why the subject of "Negative Gearing" and "Capital Gains Discount" dominated headlines during the election campaign.
The implementation of both at once can put pressure on the housing sector and consequently affect economic growth
Taking a look at the local currency, AUD is under siege and sliding under the influence of:
A faltering economy and a property slump
A Federal Election with a close call between Labor and the Coalition
Trade tensions between the US and China.
The effect on the local currency after the election will depend on the composition of the Parliament- whether the implementation of policies will be difficult or not according to the majority. It is unlikely that the Aussie dollar will see any significant relief rally as short-term factors are looking quite bearish.
Disclaimer: Articles and videos from GO Markets analysts are based on their independent analysis. Views expressed are of their own and of a 'general' nature. Advice (if any) are not based on the reader's personal objectives, financial situation or needs.  Readers should, therefore, consider how appropriate the advice (if any) is to their objectives, financial situation and needs, before acting on the advice.
Next: European Parliament Election 2019
Previous: An Election Rate Cut?