Is Germany on the Brink of a Technical Recession?
November 12, 2019
By Deepta Bolaky

 @DeeptaGOMarkets
Is Germany on the Brink of a Technical Recession?
Europe's largest economy and the world's fourth-largest economy is at risk of going into a technical recession.  Such recession arises after two consecutive quarters of economic decline. In the second quarter of 2019, the German's economy had contracted by 0.1% compared to a growth of 0.4% in the first quarter.



Source: Statistisches Bundesamt Deutschland
After a decade of economic expansion, some cooling off was expected. However, Germany is currently being hit by several headwinds:
US-China trade war
Brexit
A major shift in the Automobile industry
Trade wars and Brexit are geopolitical risks that are impacting the overall global growth. However, since the automotive industry is a key economic factor that contributes to the success of the country, car industry woes are probably the core domestic challenges that the German's economy is facing.
Automotive Crisis
Climate Change, Self-driving cars and the changing needs of customers are the deep and fundamental challenges that are reshaping the automotive industry in Germany.
The switch to electric cars and rigid European regulations on carbon dioxide are weighing on the auto industry. The electromobility era has arrived to help halt climate change and we are seeing global sales of electric cars rising significantly.
Self-driving cars are becoming popular which has forced German carmakers and suppliers to embark on an unprecedented collaboration in exploring the industry of autonomous cars. In the face of fierce competition, German high-end carmakers- BMW and the maker of Mercedes-Benz have joined hands to tackle the expensive self-driving car industry and catch up with American and Chinese rivals. Yet, all German companies are still lagging behind their competitors.
Uber and other ridesharing companies have also caused a shift in demand. The auto industry is finding itself in the midst of tectonic shifts. Companies like Uber are not only a threat to taxi companies but also to car companies. In many western countries, consumers are weighing the cost-benefit relationship and are moving away from car ownership.
Germany's Economy
The services sector and the jobs market are flaring up well in Germany. We have seen robust growth in the services sector in recent quarters. However, for the month of September, Germany's Services PMI Index came at 51.2 which marks a 37-month low and fuelled fears that the crisis in the manufacturing sector has spilled over to the services sector.
Also, the industrial sector led by autos and factory machinery has seen a decline in activity. The Manufacturing sector remains deep in the contractionary level. Even though the Manufacturing PMI ticked up from 41.7 to 42.1 in October, it remains close to a decade-low.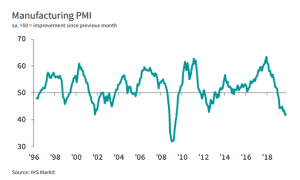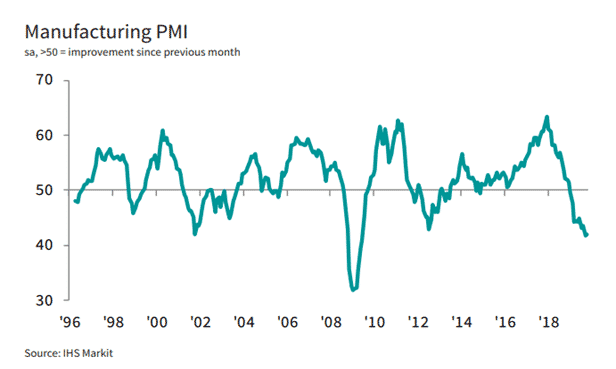 The rate of decline has eased which is providing a glimpse of hope but the manufacturing sector remains in a recession and there are concerns that the slowdown will spread across other sectors of the economy.
Exports to the Rescue
German's exports have surprised in September with a stronger-than-expected increase. Exports rose to 1.5% and provided some relief that Europe's largest economy will avoid a recession in the third quarter.
Even if the third-quarter growth figures scheduled to be released this week confirmed that a technical recession has been avoided, the German's economy remains in stagnation. In the face of the global trade war especially threats of crippling tariffs on German cars, a shift in consumer trends, rising number of factory job losses, a slowdown in the manufacturing industry and Brexit uncertainties, the German government need to rethink the export-led growth model to revive growth.
The German government has room in the fiscal space to counter slower economic growth. However, the government has strived for fiscal soundness over the years and have been reluctant to run a budget deficit despite concerns over a growth slowdown.
This week figures will be able to provide more insights if there will be considerations for an increase in fiscal stimulus and whether the German's government will abandon the zero-deficit policy. 
By Deepta Bolaky

 @DeeptaGOMarkets
 Disclaimer: Articles and videos from GO Markets analysts are based on their independent analysis. Views expressed are of their own and of a 'general' nature. Advice (if any) are not based on the reader's personal objectives, financial situation or needs.  Readers should, therefore, consider how appropriate the advice (if any) is to their objectives, financial situation and needs, before acting on the advice. For more resource on Forex trading check out our Forex Trading For Beginners introduction, Forex Trading Courses, open a Forex Demo Account or open a live Forex Trading Account.
Next: RBA: "QE is not on our Agenda!"
Previous: The Loonie – Best Performing G10 Currencies